Robotics in automation 
Industrial robots are on the verge of revolutionising manufacturing. As they become smarter, faster and cheaper, they're being called upon to do more. They're taking on more 'human' capabilities and traits such as sensing, dexterity, memory and trainability. As a result, they're taking on more jobs – such as picking and packaging, testing or inspecting products, or assembling minute electronics.
Five reasons to use robotics in manufacturing
Robots used in manufacturing create efficiencies all the way from raw material handling to finished product packing.
Robots can be programmed to operate 24/7 in lights-out situations for continuous production.
Robotic equipment is highly flexible and can be customised to perform even complex functions.
With robotics in greater use today than ever, manufacturers increasingly need to embrace automation to stay competitive.
Robots can be highly cost-effective for nearly every size of company.
Advantages
While the initial investment may seem daunting, automating with industrial robots has many advantages, including:
Decreased Production Costs: Robotics in manufacturing creates a speed increase, which therefore directly impacts production.
Shorter Cycle Times: A lean manufacturing line is crucial for increasing efficiency. An automated robot can work at a constant speed without pausing for breaks. Therefore, meaning it has the potential to produce more in a shorter time than a human worker.
Improved Quality and Reliability: Applications are performed with precision, ensuring the product is manufactured with the same specifications and process every time.
Expert at Multiple Applications: Automation in the manufacturing industry is the process of integrating industrial machinery to automatically perform a variety of applications such as welding, material handling, packing, etc.
Disadvantages
Despite shaping the manufacturing industry for the future, robotics in automation does come with it's drawbacks:
Capital Cost: Whilst industrial robots can prove highly effective and bring about a positive ROI, implementing them might require a fairly high capital cost.
Expertise: Whilst industrial robots are excellent for performing many tasks, as with any other forms of technology, they require more training and expertise to initially set up.
Goudsmit's RobofrOK
Goudsmit's RobofrOK department was set up over a year ago, bringing together a team of production and logistics people, engineers and an IT specialist. Aiming to unlock the potential of our production of magnet assemblies, including the magnetic gripper. By this we mean achieving larger quantities, even higher quality and a flawless production process.
Production learning process
In order to be able to supply to the automotive industry, for example, which uses many grippers and magnet assemblies, it is important to meet certain quality requirements. We really wanted to take the grippers/assemblies to a higher level, so we can deliver to even more companies. This requires a tightly regimented production process.
We started with the magnetic grippers. Our intention is to be using this strict production method to manufacture all our magnetic grippers by the end of 2018. Therefore, the robot – and quite possibly multiple robots in the future – plays an important role in this. We are also putting a lot of effort into winning new projects.
Ever more efficient
Our new process is based on the efficient Lean and Kanban methodologies. This means that we have exactly enough products ready for production. This eliminates waste and ensures that we can deliver based on the pull strategy – according to the exact needs of the customer – rather than the push strategy (production for stock, based on expected demand). We track the processes and obstacles on planning boards during production so that we can continuously learn from everything that happens. A production cycle takes 12 weeks, during which we continuously make the same types of grippers, with opportunities to learn every step of the way. We are currently producing three types.
What exactly does the robot do?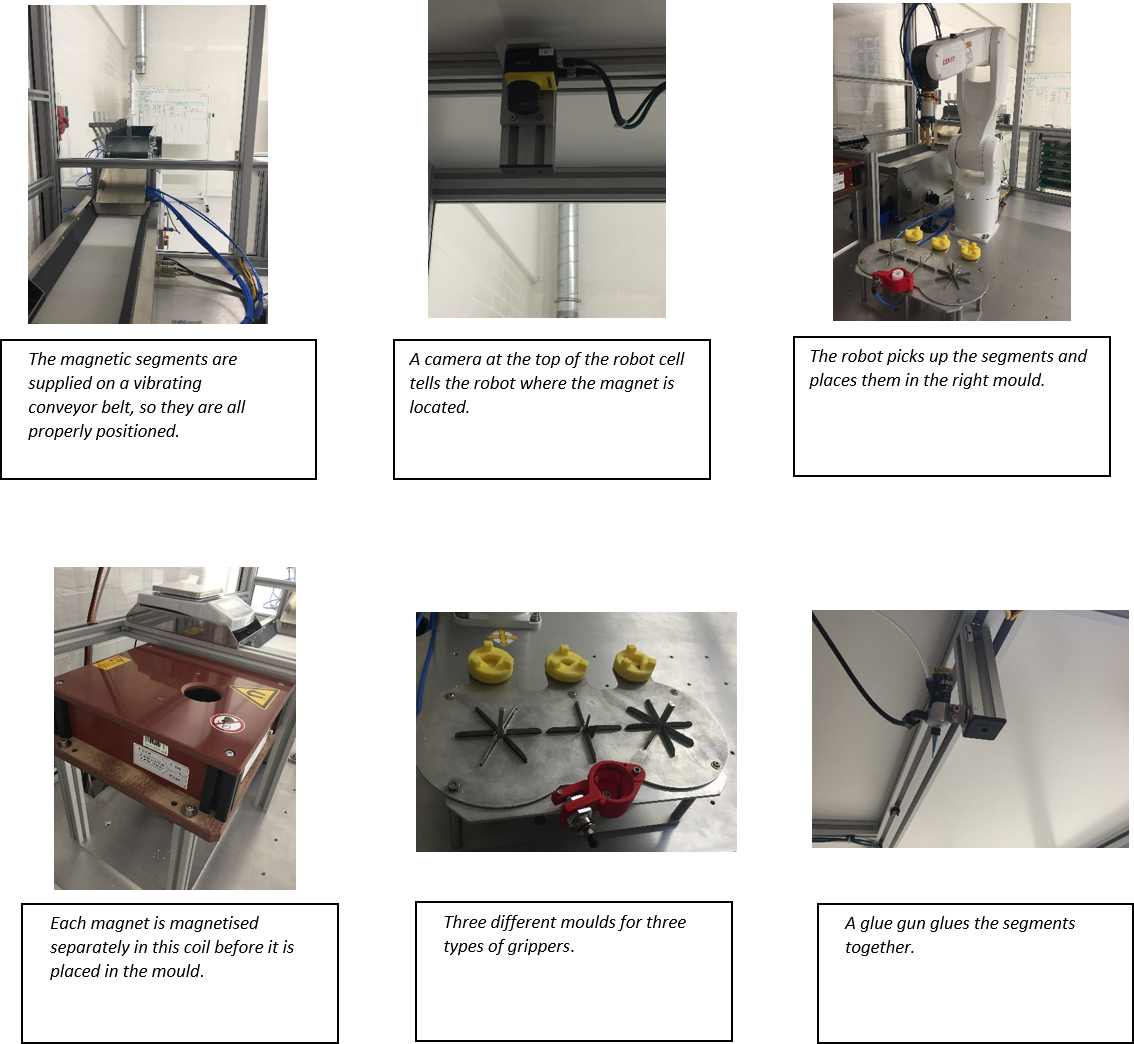 Goudsmit UK
It is clear that robots are changing the face of manufacturing. With the ability to handle more, they offer complexity and toughness in diverse manufacturing settings. Therefore, clarifying that robots are the future of manufacturing.
At Goudsmit UK we sub-contract manufacture a vast variety of magnets and magnetic assemblies to suit your requirements. Contact us today for more information at info@goudsmit.co.uk or on +44 (0) 2890 271 001.
For more information download our products and services brochure.