Currency
GBP/USD stands on slippery ground as it takes offers to renew monthly low around 1.2300, after falling the most in five weeks.
It should be noted that the Brexit woes and political instability in the UK join the lack of trust in the Bank of England (BOE) to exert additional downside pressure on the GBP/USD prices.
UK Foreign Secretary presented a Bill to edit a part of the Brexit deal, relating to the Northern Ireland Protocol (NIP), to the British House of Common on the 13th of June. In addition to the European Union's (EU) clear signals to retaliate against such moves by harsh measures, chatters that the European judges to be stripped of Northern Ireland protocol powers under new Brexit law, backed by the UK Telegraph, also amplify Brexit concerns.
Elsewhere, Tory rebels are trying hard to oust UK PM Boris Johnson and may use the latest Brexit bill for their purpose. However, a lack of clarity over the successor and Johnson's Brexit aggression seem to help Johnson keep the throne, as per the market's rumours.
A blast in covid numbers in Beijing, alongside an increase in Shanghai's virus figures, recall the COVID-19-linked activity restriction in China recently weighed on the market sentiment and increase the US dollar's safe-haven demand.
Looking forward, the market's fears of Brexit and doubts over the BOE's ability to counter the inflation woes, due to the alleged late policy response, could keep the GBP/USD prices directed towards the south.
Source – Fxstreet.com
Commodities
May saw Neodymium jump by 10(USD/KGS), while the rest of the commodities continued on their downward trend. Cobalt decreased by a further 13.24(USD/KGS), followed by Samarium with a 10(USD/KGS) decrease and Nickel by 4.17(USD/KGS). Copper decreased by 0.39(USD/KGS) while both Aluminium and Zinc decreased by 0.27(USD/KGS).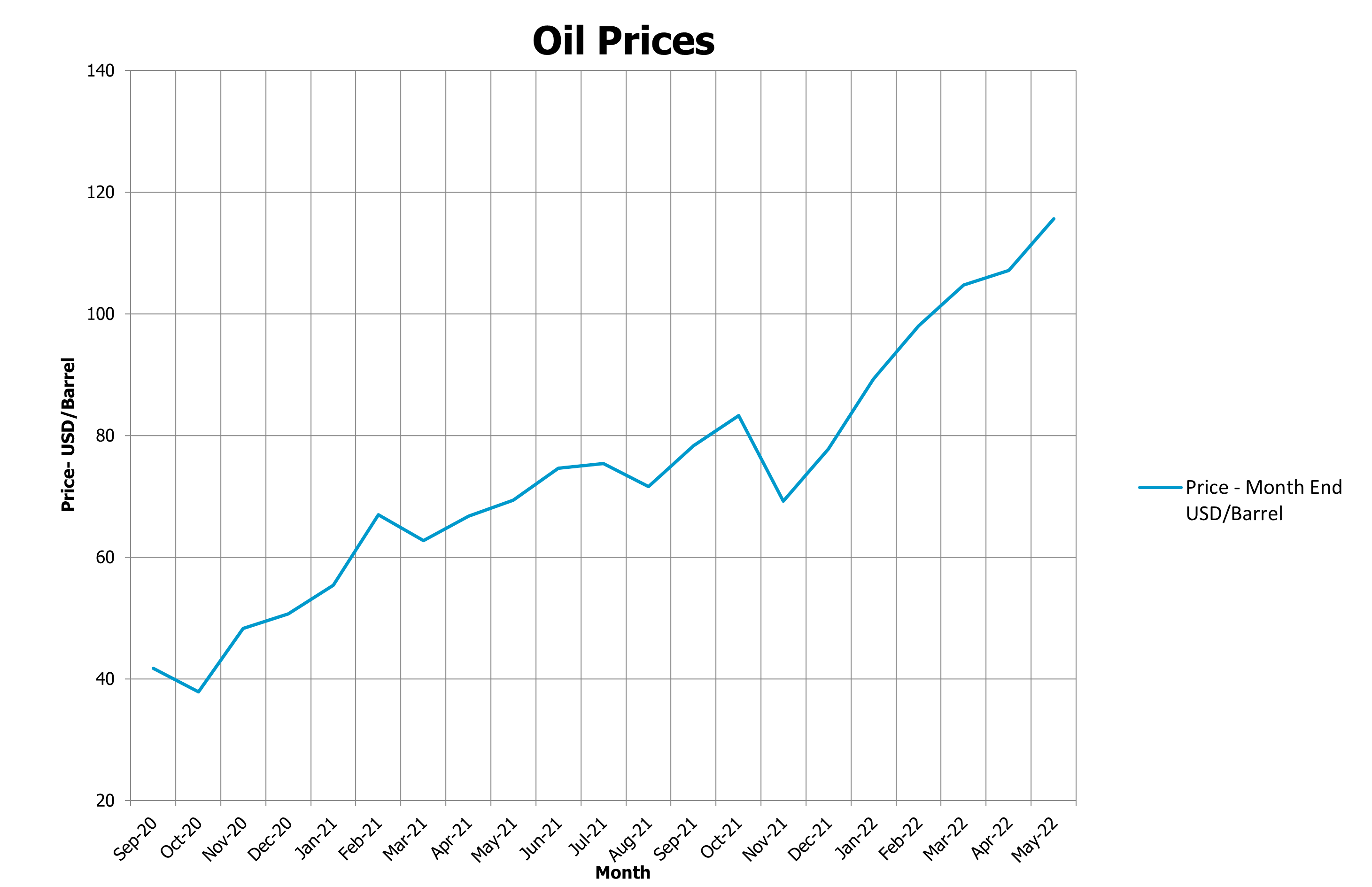 Production & Freight Update
Approx. 260,000 teu (twenty-foot equivalent units) of unshipped cargo from China's covid lockdowns, is set to ship. Therefore, causing a chaotic summer for global freight. According to new analysis from Drewry, "the equivalent of 26 fully loaded 10,000 teu containerships will have to be found somehow in future months as supply chains are reactivated." 51% of forwarders, traders and shippers surveyed by Container xChange are expecting this year's summer peak season cargo surge to be even more disruptive for global supply chains than in 2021.
The lifting of Shanghai's lockdowns, means the backlogs are scheduled to arrive into Europe and the US during peak season. Resulting in even more pressure on ports that are already badly affected with congestion. Maritime analyst Alphaliner reported that the average Asia-North Europe round trip voyages for the largest vessels are taking 101 days. This is 20 days late compared to their normal proforma schedules. This in turn results in blank sailings, as carriers' hands are forced with no ship availability.
To exacerbate an already pressured and fragile system, there have been threats of strikes from North European port workers, as unions strive to achieve wage increases that keep up with the pace of inflation.
A fragile global economy and a tightening on consumer spending could lead to a slowdown of demand in Q4 2022. The World Bank President, David Malpass, stated "the war in Ukraine, lockdowns in China, supply-chain disruptions, and the risk of stagflation are hammering growth. For many countries, recession will be hard to avoid". This should result in a drop in freight spot rates. There's a hope that Global Ocean cargo could 'normalise' operations to pre-Covid levels in 2023.
Two months of Shanghai Covid lockdowns ended at the start of June. However, there has been muted activity at Shanghai's two main airports. This slow recovery has highlighted the lockdown's lingering impact on the world's aviation market. It's expected to remain stifled, impacting belly-hold cargo, as consumers avoid travel due to the risk of restrictions. Therefore, resulting in disrupted travel arrangements and potential compulsory hotel quarantines. Cargo only airfreight operations, on the other hand, have returned to approx. 80% of their pre-lockdown levels, and courier carriers have lifted all weight limitations on their movements to & from Shanghai.
Fuel prices have spiraled upward over recent weeks and are currently higher than they have ever been. Compounded by the pandemic restrictions and staff salary increases, many haulage firms have increased their fuel surcharges, with some upwards and over 18%. Most had held off passing these increases on in hope that it would be a short-term inconvenience. Although, it's now apparent that it is lasting longer than originally expected. These surcharges are being continually monitored.
It's also worth noting that there is a UK railway worker strike planned for a several days w/c 20th June. If this strike goes ahead, it will impact all rail services that week. Therefore, putting increased pressure on road haulage resources from the ports.
Brexit
Problems remain in NI, the DUP continue to refuse to partake in the NI Assembly unless the NIP is changed. The UK government noted that it would like to go back into discussions with the EU regarding the NI protocol. The UK have published legislation proposing that the number of checks on goods intended for sale only in NI would be reduced, and that there would be a separate system for goods intended for final sale in the EU. The European Commission in response has taken legal action and has warned that renegotiating the terms of the deal is out of the question, that the new legislation would be breaking international law, and that if the UK government goes ahead with any of its plans, it will damage the trust between the EU and the UK.
Goudsmit UK
Goudsmit UK continue to communicate with all customers proactively. We manage expectations and providing multiple solutions, allowing customers to make conscious decisions when balancing cost versus supply chain risk.
We continue to advise all customers at the point of quotation and order confirmation of the extended lead times. Therefore, allowing any freight delays to be factored in when planning. We would request that you review your current requirements and advise of any issues asap. We'd also urge you to review your requirements for 2022 – 2023 at the earliest opportunity.
Whilst freight delays are unavoidable at this time, we're working with our customers by holding larger volumes of UK stock for longer. We would encourage that a minimum of 8-10mths of buffer stock is considered when re-ordering new production. In order to help reduce the impact of freight delays and lessen the potential requirement for costly airfreight.