Currency
The pound began the European session on the front foot supported by strong UK labor data. Unemployment fell but growth in job vacancies (quarterly) are on the decline. UK companies are finding it harder to fill vacancies which could point to higher emphasis on staff retention. However, the positivity around the UK jobs data print does give sterling some support amid an environment steeped in recessionary fears. Ahead this week, important UK jobs, wages, and inflation data will need to be closely watched.
The UK labour market is and is expected to remain, robust, while inflation is expected to nudge ever higher. The headline annual figure, currently at 9.1%, is set to hit double-figures this year according to the Bank of England. The UK central bank may well have to hike rates by 50bps to 1.75% at the next policy meeting in August. The BoE has hiked rates at the last five MPC meetings.
In the UK the Conservative leadership contest enters a crucial week but the political situation in the UK has not really had much in the way of material impact on the pound so a change in trend is not expected as Tory voting continues. The remaining four candidates will be cut down to two by the end of the week. Bookmakers predict a final run-off between Rishi Sunak and Penny Mordaunt as the most likely outcome. As always, anything can happen in politics.
The British pound rallied a bit during trading on Tuesday to pierce the 1.20 level again. This is an area that should continue to offer a lot of noisy trading. Due to the fact it's a large, round, psychologically significant figure, and an area that's previously offered support and resistance. Because of this, the market is going to remain choppy in this general vicinity.
The US dollar has opened the week on the backfoot despite last week's four-decade high U.S. inflation print. The US dollar basket (DXY) is around 0.50% lower today at 107.20 after having made a two-decade high of 109.03 last week. Friday's University of Michigan's survey showing inflation expectations easing to a one-year low set the tone for the US dollar to move lower and also changed the narrative back to a 75bp rate hike next week from a recently talked about 100bps. There is little in the way of US data this week to move the greenback, while Fed members will remain in the background as they observe the blackout period ahead of the July 27 FOMC meeting.
Sources – Daily FX.com
Commodities
In June Neodymium remained at 180(USD/KGS) while all other tracked commodities continued on their downward trend. Cobalt had the most significant decrease of 12.52(USD/KGS), followed by Nickel by 4.44(USD/KGS) and Samarium by 1.80(USD/KGS). Some smaller decreases include Copper by 1.09(USD/KGS), Zinc by 0.70(USD/KGS) and Aluminium by 0.33(USD/KGS).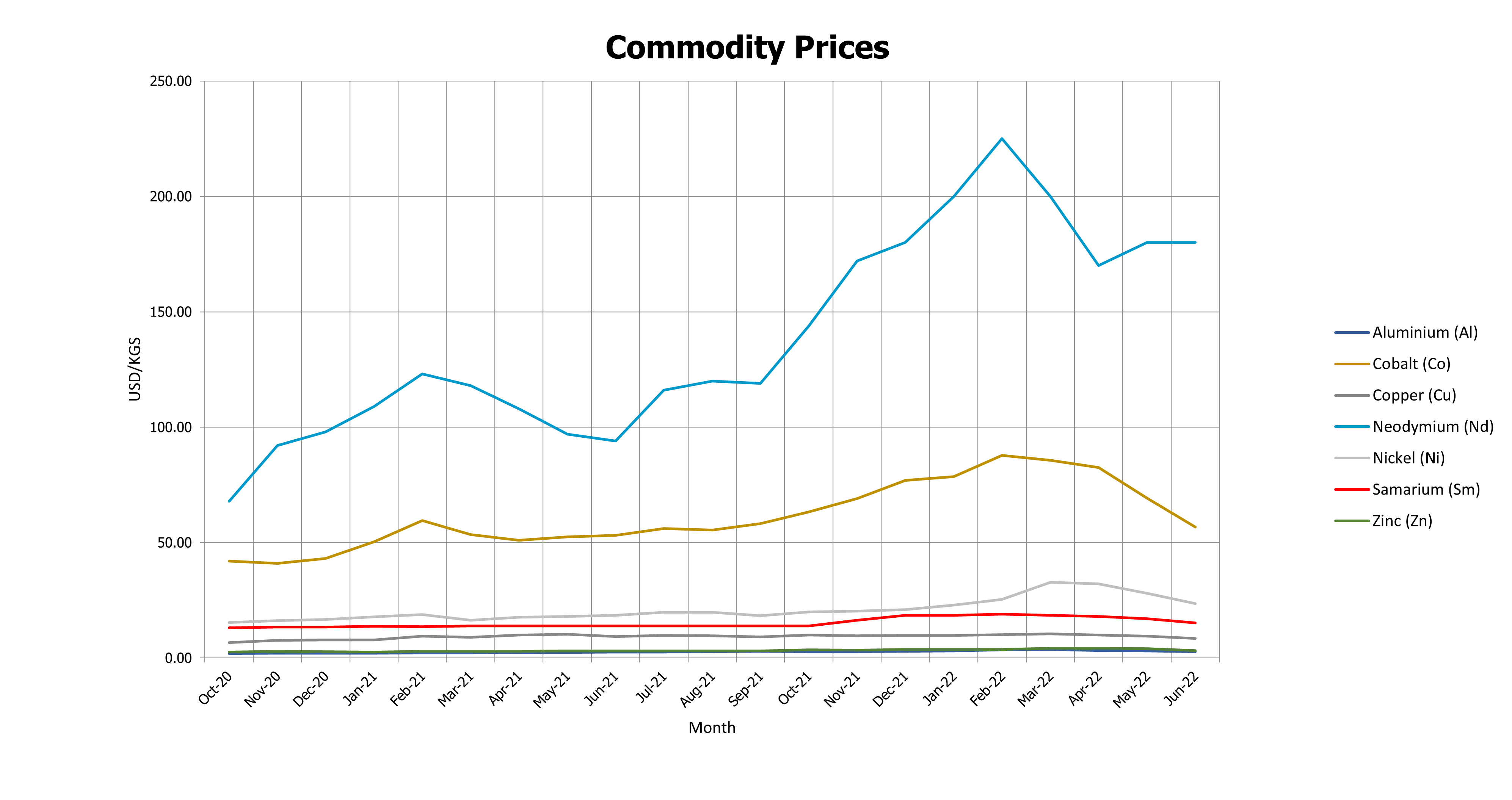 Production & Freight Update
As expected, the covid delayed Chinese cargo has started to hit European ports. Combined with the war in Ukraine, vessel unreliability and the world crisis in the energy sector, many ports are under extreme pressure with some having to divert to other ports to relieve the congestion.
To exacerbate an already pressured and fragile system, there have been threats of strikes from North European port workers. Unions strive to achieve wage increases that keep up with the pace of inflation. Container terminals in Germany are preparing for disruptions, after the latest round of negotiations failed to reach an agreement. A 48hr strike has seen workers down tools in Hamburg and Bremerhaven. Maersk announced a full stoppage on rail, road, and ocean freight for both import and exports across their German terminals for the duration.
A fragile global economy and a tightening on consumer spending could lead to a slowdown of demand in Q4 2022. The World Bank President, David Malpass, has stated that "the war in Ukraine, lockdowns in China, supply-chain disruptions, and the risk of stagflation are hammering growth. For many countries, recession will be hard to avoid". This should result in a drop in freight spot rates. There's a hope that Global Ocean cargo could 'normalise' operations to pre-Covid levels in 2023.
Two months of Shanghai Covid lockdowns ended at the start of June. Although, there has been muted activity at Shanghai's two main airports. This slow recovery has highlighted the lockdown's lingering impact on the world's aviation market. It's expected to remain stifled, impacting belly-hold cargo, as consumers avoid travel due to the risk of restrictions. Therefore, resulting in disrupted travel arrangements and potential compulsory hotel quarantines. Cargo only airfreight operations, on the other hand, have returned to approx. 80% of their pre-lockdown levels, and courier carriers have lifted all weight limitations on their movements to & from Shanghai.
In recent days, fuel prices have started to fall, after reach record highs in recent months. Haulage companies are monitoring the situation and are amending their fuel surcharges each month to reflect.
A new wave of strikes is expected on UK rail transport in July and August. This is a result of disagreements around pay and the cost-of-living crisis. The strikes in June caused a huge impact, with an 80% reduction in services. Many haulage companies are pre-empting the current negotiations by giving their customers notice of the potential network disruptions, should the unions and British Rail executives fail to provide a negotiated solution.
Brexit
UK politics have been thrown into turmoil yet again. Boris Johnson submitted his resignation from the leader of the Conservative Party. The party are in the process of electing their new leader, with the result expected to be announced in September. Boris Johnson will remain as a caretaker in the PM role during this time, after surviving a confidence vote in his government.
When he departs his role, one of the main items of unfinished business is the Northern Ireland protocol. Problems remain in Northern Ireland, as the Democratic Unionist Party continue to refuse to take part in the NI Assembly unless the NI protocol is changed. The Northern Ireland Protocol Bill, which has an overall aim of scrapping NI border checks, is expected to reach the House of Lords before October. The legislation proposes that the number of checks on goods intended for sale only in NI would be reduced, and that there would be a separate system for goods intended for final sale in the EU.
The European Commission has launched fresh legal action against the UK and has warned that renegotiating the terms of the deal is out of the question. The new legislation would be breaking international law. Moreover, if the UK government goes ahead with any of its plans, it will damage the trust between the EU and the UK.
All eyes will be on the new Prime Minister, watching closely whether they continue with the Bill, if they are successful in getting it passed and how it will affect the Good Friday Agreement and overall stability of Northern Ireland.
Goudsmit UK
Goudsmit UK continue to communicate with all customers proactively. We manage expectations and providing multiple solutions, allowing customers to make conscious decisions when balancing cost versus supply chain risk.
We continue to advise all customers at the point of quotation and order confirmation of the extended lead times. Therefore, allowing any freight delays to be factored in when planning. We would request that you review your current requirements and advise of any issues asap. We'd also urge you to review your requirements for 2022 – 2023 at the earliest opportunity.
Whilst freight delays are unavoidable at this time, we're working with our customers by holding larger volumes of UK stock for longer. We would encourage that a minimum of 8-10mths of buffer stock is considered when re-ordering new production. In order to help reduce the impact of freight delays and lessen the potential requirement for costly airfreight.