Currency
The first main driver behind some of the price action for the pound is the result of news that the Moderna jab looks likely to be made available in the UK in the second half of April. This has provided some additional encouragement for Sterling. At present, 30 million people in Britain have now received at least one vaccine dose and there has, as of yet, been no signs that the reopening of schools has led to either an increase in new cases or deaths caused by the virus.
In terms of the Euro, a host of nations in the EU have reinforced tougher lock-down measures in the past few days as infection levels tick upwards and the bloc's vaccine roll-out stalls. Inflation data on Wednesday and revised manufacturing data are the main events this week. Outlook for Q1 economic data looks grim, and a double-dip recession continues to look inevitable.
Over in the US, macroeconomic data out last week fell short, though fourth quarter GDP data was revised higher and jobless claims remain low. Friday's non-farm payroll report will be the main event in the US this week.
Commodities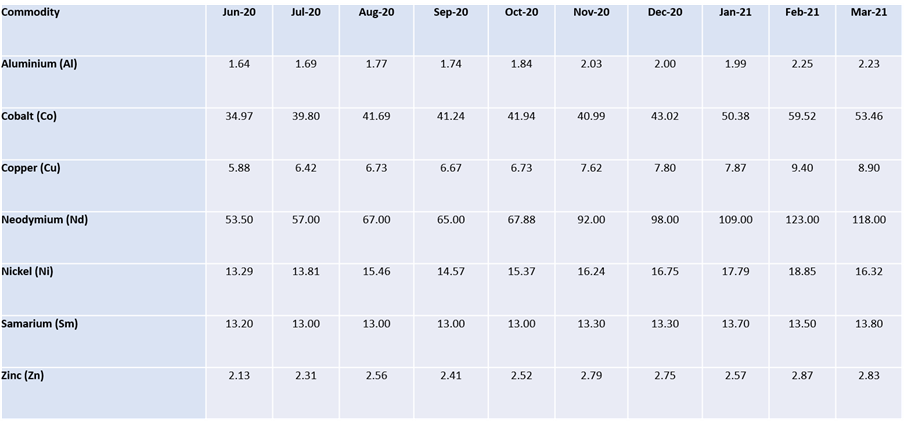 The month of March seen a slight decrease across all commodities aside from Samarium which had a small increase of 0.3 (USD/KGS). Cobalt has the biggest decrease of 6.06 (USD/KGS) closely followed by Neodymium with a decrease of 5 (USD/KGS). In addition, Nickel had a decrease of 2.53 (USD/KGS), copper 0.5 (USD/KGS), Zinc 0.04 (USD/KGS) and Aluminium 0.02 (USD/KGS).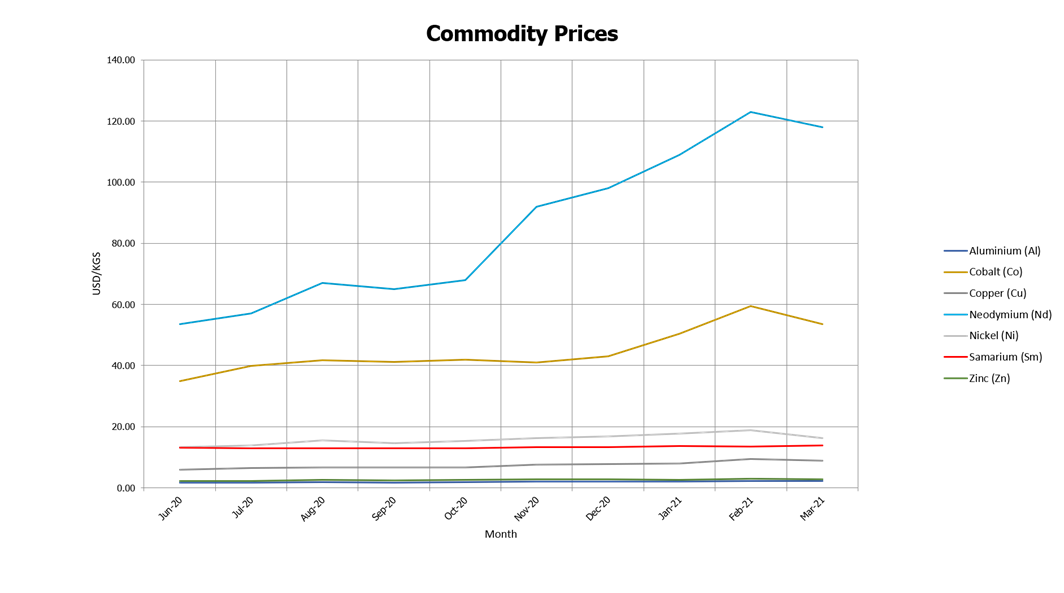 Sea Freight
It is likely that global supply chains could continue to feel the knock-on effect of the Suez canal blockage through into the middle of May. Although the backlog of over 400 ships on the vital route has been cleared, delays and congestion in ports across Europe are now being seen. This will slow the return of equipment to Asia and subsequently exacerbate the already bad situation regarding container shortages. The industry is likely to be impacted for months to come and will likely result in higher shipping costs from mid-April, with normal rates not predicted to return this year.
Port Disruption
UK ports continue to be affected by congestion, with Felixstowe, which accounts for nearly half of UK imports, facing significant problems, and many shipping lines being forced to reroute to Southampton. IHS Markit named Felixstowe as one of the worst-performing ports in Europe and Asia, with ships being unloaded over a period of around 32 hours. The average among 12 comparable ports was 24 hours. As a result, many shipping lines continue to impose port congestion surcharges on containers.
Air Freight
The International Air Transport Association (IATA) released figures for air cargo demand in February 2021. It showed a 9% rise in demand from the pre-Covid levels seen in February 2019. It also showed a strong month-on-month growth over January 2021 levels. No comparisons have been made between the 2021 & 2020 results as they would be distorted by the extraordinary impact of Covid. There has been no firm confirmation on the proposed dates for the return of passenger traffic, as such, air cargo prices remain high in response to the shortage of services and availability.
Brexit
Three months post Brexit, many areas of life have been impacted, although it has been difficult to distinguish from the continuing impact of Covid. More than a quarter of small UK firms have ceased trading with Europe temporarily to allow the dust to settle. A further UK delay on imposing import checks on EU goods, means that European exporters have not reported the same issues. A new government plan announced in March, states that import checks are now scheduled to start between 1st October 2021 and March 2022. This postponement will allow further time to be invested in new staff, IT systems and infrastructure.
Goudsmit UK
At Goudsmit UK, we use several different freight partners to transport our customers products globally. This multi-carrier approach allows us to select the carrier best suited to your requirements, providing flexibility and a tailored service. Whilst freight delays are unavoidable at this time, we work with our customers by holding UK stock and would encourage that 6-8mths of buffer stock is considered when re-ordering new production, reducing the impact of potential freight delays and lessening the potential requirement of costly airfreight.
Keep updated with market updates by signing up to our newsletter here.
If you require more information on our products or services or wish to speak to a member of our team, please contact us by completing the contact form here or you can also call us on +44 (0) 2890 271 001.