MIM merges two established technologies, plastic injection moulding and powdered metallurgy. This frees designers from the traditional constraints associated with trying to shape stainless steel, nickel iron, copper, titanium and other metals. Allowing greater design freedom and also more opportunity for innovation.
The Process
Our engineers will work closely with you to determine if the component is suited for MIM. Where appropriate, we will recommend design changes, so you achieve the maximum benefit from our process.
1.Preparing the Feedstock
Primary MIM raw materials include metal powders and a thermoplastic binder. However, the binder is only an intermediate processing aid and must be removed from the products after injection moulding.
Furthermore, the blended powder mix is worked into the plastified binder at an elevated temperature using a kneader or shear roll extruder. The intermediate product is the feedstock, which is granulated with granule sizes of several millimetres.
2. Injection Moulding
A custom-made tool is fitted into the moulding machine and the feedstock is injection moulded into it to produce a net shaped 'Green' component. The 'Green' MIM parts are formed in an injection moulding process equivalent to the forming of plastic parts. Moreover, the variety of part geometries that can be produced by this process is like the great variety of plastic components.
3. Binder Removal
The moulded 'Green' component is transferred to the debind ovens where they are either thermally or solvent debound. Once debound the parts are very brittle and absorbent as only one binder remains, at this stage parts are referred to as a 'Brown' component.
4. Sintering
The 'Brown' component then reaches the final stage of the process where it is sintered in a controlled atmosphere. Temperatures are taken to just below melting point of the material, allowing menisci to form between the particles. Controlled, uniform shrinkage of on average 17% occurs at this stage and the component densifies to its finished size, shape and also tolerance parameters. After sintering, the high density 'White' component has equivalent properties to wrought materials and can be heat treated, polished, plated or welded.
For certain applications, such as the automotive, medical and aerospace sectors, Hot Isostatic Pressing (HIP) can be used to completely remove any residual porosity. As MIM parts are typically small, this can be relatively cost effective for critical components.
5. Post Sintering Operations
Goudsmit UK's experience and attention to detail enables us to produce quality precision components that don't require costly secondary operations. The MIM process has a typical tolerance range of ±0.5%, depending on factors such as material, location of the injection point, thermal treatment and in general, the shape of the part. However, if requirements exceed our process capabilities, we work with our clients to develop the most cost-effective solution.
Applications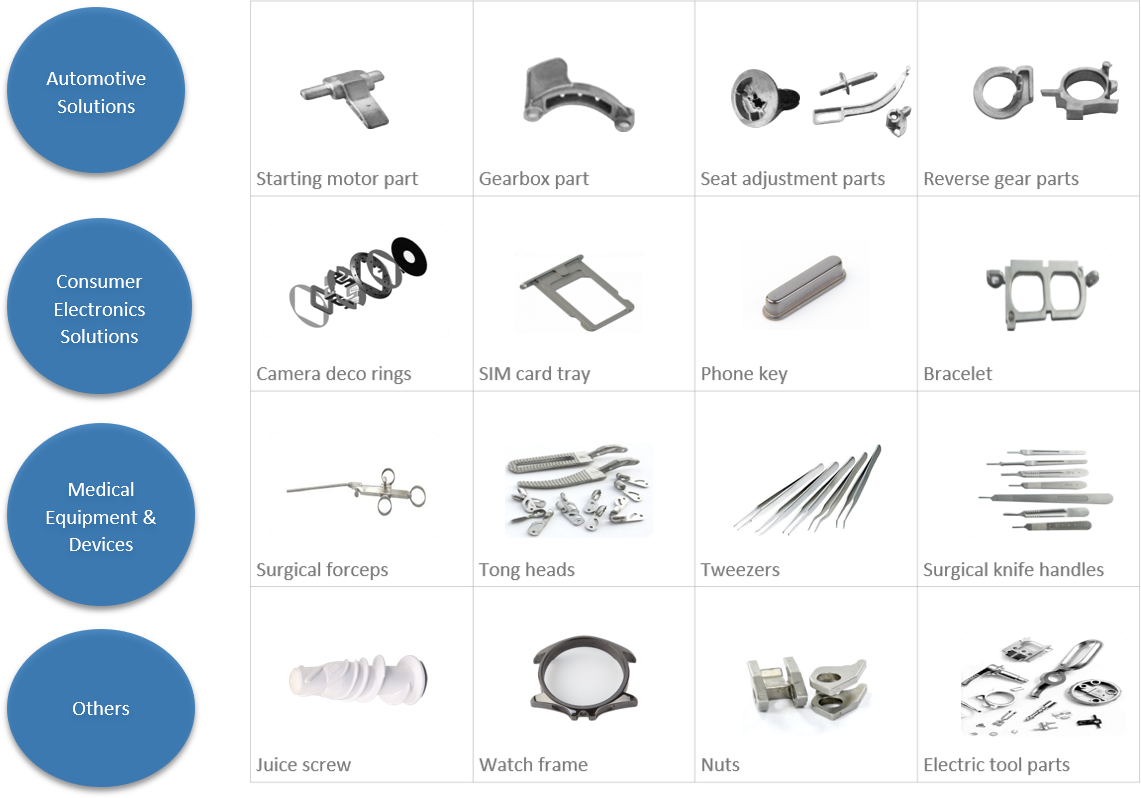 Raw Materials Available from Goudsmit UK
| | | | | | | |
| --- | --- | --- | --- | --- | --- | --- |
| Stainless Steel | Soft Magnetic Alloy | Low Alloy Steel | Tool Steel | Special Alloy | Plastic | Ceramic |
| 17-4PH | FeSi3 | FN04 | M2 | Ti | PA | Al2O3 |
| 316L | FN50 | FN08 | SKD11 | W | PPS | ZrO2 |
| 304 | FeCo35 | G1010 |   | F15 | ABS |   |
| 420 | FeCo50 | 8620 |   | HX | PE |   |
| 430 |   | 8740 |   | N90 | PS |   |
| 440B |   | 4340 |   | GHS-4 | POM |   |
| 440NB |   | 100Cr6 |   |   | LCP |   |
|   |   | 42CrMo4 |   |   |   |   |
|   |   | SCM415 |   |   |   |   |
Goudsmit UK
Our team of engineers offer design solutions for a variety of industries including automotive, medial, renewable energy and more. Contact us today for more information at info@goudsmit.co.uk. Or you can also speak to a member of our team on +44 (0) 2890 271 001.
For more information download our products and services brochure here.
Follow us on LinkedIn, Twitter and Facebook for regular updates.