Goudsmit UK have extensive experience offering a range of logistics solutions, helping ease your frustration through the current freight crisis. Our modern distribution network guarantees your parts where you want them when you want them. We have established relationships with several logistics partners drawing on a wealth of experience and expertise to offer our customers a range of local, regional, and worldwide logistics solutions.
Our supply chain management system has been developed with an orientation to customer satisfaction. We focus our competencies on understanding and supporting our customers, seeking to provide the most cost effective and efficient logistics solution for their business.
Range of logistics solutions
Realising that in a busy marketplace, parts can often be required at short notice. We have the capability to hold consignment stock in our warehouses in the UK and Holland for immediate dispatch. In addition to this, we also offer the following logistics services:
Frame contracts with multiple drops spanning up to 3 years
Demand planning expertise to predict and manufacture client requirements
Consignment stock capabilities
JIT delivery for automotive volumes
KANBAN delivery for regular use items
Global tracking system to monitor orders and parts through production, shipping, and delivery
Warehouses in the UK to allow ex stock delivery
Buffer stock held locally to offer 3-day delivery
Goudsmit UK and the freight crisis
We continue to communicate with all customers proactively, managing expectations and providing multiple solutions. This allows our customers to make conscious decisions when balancing cost versus supply chain risk.
We continue to advise all customers at the point of quotation and order confirmation of the extended lead times so that they can be factored in when planning. We would request that you review your current requirements and advise of any issues asap and would urge you to review your requirements for 2022 – 2023 at the earliest opportunity.
Whilst freight delays are unavoidable at this time, we are working with our customers by holding larger volumes of UK stock for longer and would encourage that a minimum of 8-10mths of buffer stock is considered when re-ordering new production to help reduce the impact of freight delays and lessen the potential requirement for costly airfreight.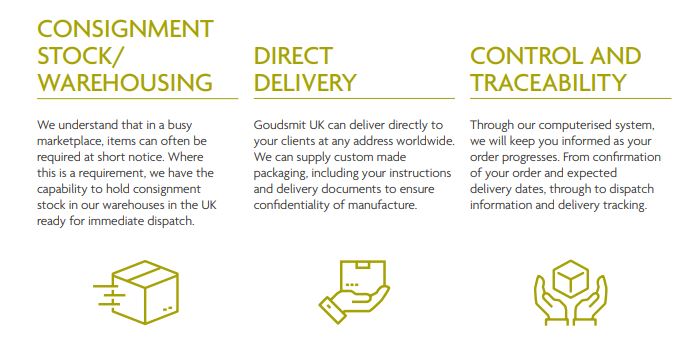 How we've helped customers with our logistics solutions



Goudsmit UK
Our ability to understand customer requirements and match them with the right solutions enables us to provide the most cost-effective logistics solutions. Count on us to help you manage your entire supply chain cost-effectively with a variety our logistics services to meet your business needs.
For more information visit our logistics webpage or download our products and services brochure.
Alternatively, email us at info@goudsmit.co.uk or to speak to a member of our team call (+44)2890271001.