Finite element analysis (FEA) is getting a bigger role in development projects, mainly because it helps reduce expensive prototype testing. In addition, FEA highly contributes to improving product integrity.
What is FEA analysis?
Finite element analysis is a computerised method for predicting how a product reacts to real-world forces, vibration, heat, fluid flow and other physical effects. FEA highlights whether a product will break, wear out or work the way it was intended. It's defined as an analysis, but in reality, it's used in the product development stage to predict what's going to happen when the product is actually used.
FEA breaks down a real object into a huge number of finite elements, such as little cubes. The elements all have a mathematical defined relationship between force and displacement. Therefore, mathematical equations are used to help forecast the behaviour of each element. Then, a computer totals the individual behaviours to predict the performance of the object itself.
What physical effects does FEA predict?
Finite element analysis helps predict the behaviour of products affected by many physical effects, including:
Electrostatics
Fatigue
Fluid flow
Heat transfer
Mechanical vibration
Motion
Mechanical stress
Plastic injection moulding
Using our extensive manufacturing knowledge, we can review your drawing prior to production. Therefore, ensuring you have a product design that reduces waste without compromising the strength and functionality of your part. We utilise our design expertise and FEA skills to evaluate and consider:
Uniform wall thickness
Soft lines
Smoothing
Solid profiles (if possible)
Pockets or channels
Decoration
Location of splits
Ejector pins
Gate positions
Date wheels
Wall thickness, flow and shrinkage
Die Fill
Mechanical performance vs ease of casting
FEA Analysis Case Study
A client uses a solid aluminium bar which is loaded in the centre. The bar does not deform; however, it is expensive, and the client wants to save money.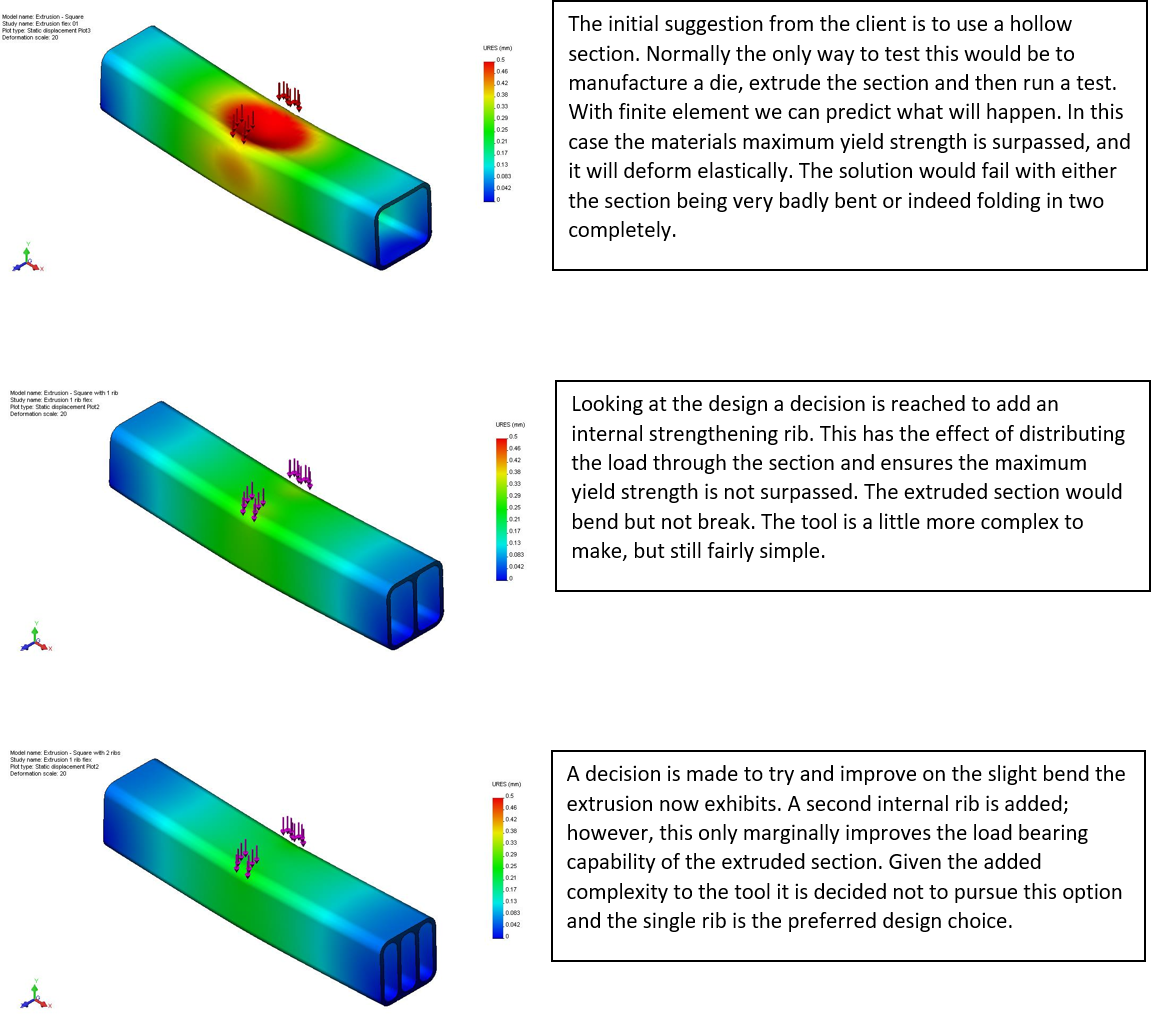 In addition, there are other factors which could have been changed in this analysis. For example, we could have altered the wall thickness of the extrusion. Similarly, different alloys could be used with higher yield strengths and different temper cycles employed. FEA analysis would also allow us to model such conditions.
Goudsmit UK
FEA is a method for solving complex mechanical problems using the power of modern computers. Furthermore, our engineers can simulate reality whatever the situation or complexity. Direct results from our ability to carry out FEA analysis are profits with respect to time and also cost in the design phase. Likewise, it adds to the reliability of your product. Contact us on +44 (0) 2890 271 001 or email us at info@goudsmit.co.uk.
Read our whitepaper on the optimisation of magnetic systems through FEM.
For more information download our products and services brochure.