Currency
The Bank of England (BoE) is expected to raise UK interest rates further in the second quarter of 2022 as the UK central bank tries to stem soaring prices pressures. The BoE has already lifted the Bank Rate to 0.75% from 0.1% in late 2021. Money markets are currently pricing in 125 basis points of additional rate hikes this year. The latest Office for National Statistics (ONS) inflation release showed headline inflation hitting 6.2% in February. This is a fresh 30-year high, while core inflation rose to 5.2% from 4.4% in January. Even higher levels of inflation are expected in Q2 this year. The latest BoE monetary policy release shows that the UK central bank expect headline inflation to top 8% in the coming months, citing sky high energy and food prices as the main drivers of the move.
Source: TradingEconomic.com
The UK central bank recently pushed back against these market expectations, fearing that a series of hikes may stall growth in the months ahead. UK growth is now back above pre-covid levels and looks robust. However, fears remain that the Ukraine crisis, and Russian sanctions, will cause further supply chain disruptions. The latest BoE monetary policy report noted that while business confidence and labour market activity have remained robust, 'consumer confidence has, however, fallen in response to the squeeze on real household disposable incomes'. It is this worry that a downturn in consumer spending will slow economic activity in the months ahead. Especially with inflation expected to hit, and stay at, multi-decade highs. According to the BoE, UK GDP is now expected to be flat for Q1, compared to 1.1% in Q4 2021.
Source: ONS and Bank Calculations
Inflation vs. Growth Conundrum
It is this inflation vs. growth conundrum that will cause Governor Bailey and the members of the Monetary Policy Committee to be flexible and yet still resolute in trying to quell inflation. If the central bank moves too hard, too quickly and causes growth to falter then fears of stagflation will hit the UK markets and Sterling. On the other hand, if the BoE reacts to slowly and multi-decade high inflation becomes entrenched, then they will have to act even more aggressively to get a grip on UK price pressures. The Bank of England will need to be sure footed and clear with their communications over the next few months if they are to succeed.
The British Pound in the Months Ahead
Sterling has had a mixed Q1 and the outlook for the second quarter of the year is expected to continue these trends. GBP/USD slipped lower during the first three months of the year as the US dollar priced in a series of interest rate hikes during 2022 and into next year. In turn, widening the rate differential between the two currencies EUR/GBP traded sideways with a slight negative bias. These overall trends are likely to continue unless there is a major shift in the macro-outlook, namely the ongoing crisis in the Ukraine.
Commodities
March saw a slight decrease across some commodities, while others remained on the upward trend. Neodymium saw a decline of 25 (USD/KGS), Cobalt 2.24 (USD/KGS) and Samarium 0.5 (USD/KGS). The biggest increase was had by Nickel, which went up by 7.41 (USD/KGS). Zinc increased by 0.5 (USD/KGS), Copper 0.41 (USD/KGS) and Aluminium 0.22 (USD/KGS).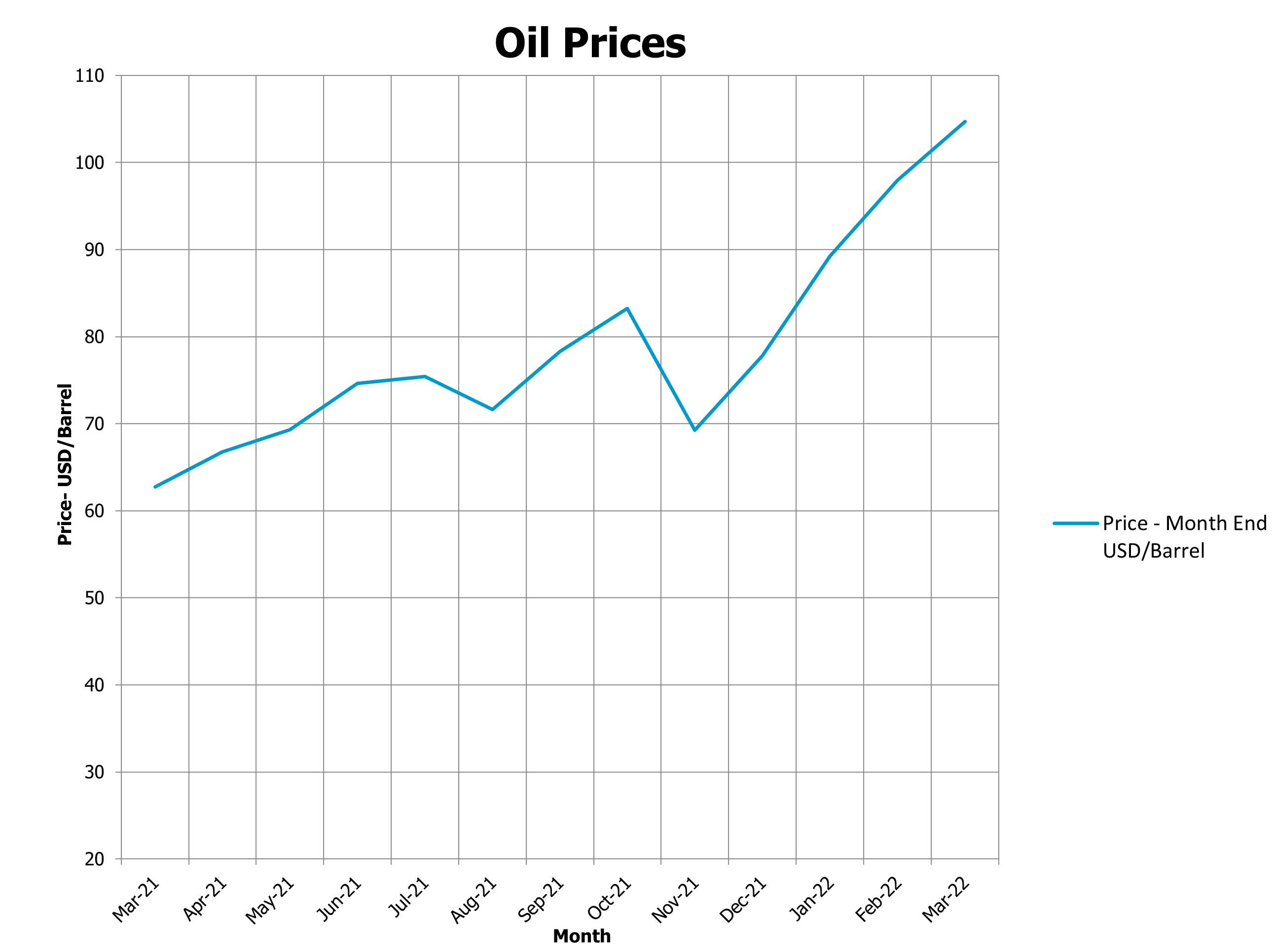 Production and Freight Update
Ocean freight delays continue with labour shortages, ongoing consumer spending, rising e-commerce demand, driver shortages and blank sailings all combining to keep the freight rates elevated. Ocean ports remain congested and unable to accommodate many of the ships that need to load/unload. Therefore, leading to lengthy port delays after arrival. There is hope within the industry that the congestion issues in the UK should improve in the coming weeks/months. This should result in the accompanying port congestion charges starting to reduce. Vessel reliability and increased transit times continue. With this, we recommend allowing 12 weeks for transit by sea freight from China to the UK after production.
The continuing repercussions of the Russia/Ukraine conflict and subsequent airspace restrictions imposed by many countries, have forced many airlines to cancel or adjust their services. The UK has banned port access to any Russian linked vessel. This includes anything Russian-flagged, registered, owned, controlled, chartered, or operated.
Goudsmit UK can confirm that we neither directly nor indirectly purchase or plan to source raw materials from either of these regions for use in, or the process of manufacturing any of our products. Moreover, we have no current vessels in transit affected by the port access ban.
Shanghai Lockdown
China continues to persevere with their zero-Covid strategy. Attempting to stamp out all outbreaks and chains of transmission, China's using border controls, mass testing, quarantines, and stringent lockdowns. The Shanghai region has been under lockdown since the end of March, with its 25 million residents forbidden from leaving their neighborhoods except to get tested.
As a result, operations at Shanghai airport have been virtually at a standstill. Couriers have had to suspend all inbound and outbound movements temporarily.
News has been released this week that the lockdowns will continue but are to be eased over the coming days/weeks. As a result, limited outbound courier operations have resumed, but with weight limitations.
There is no doubt that capacity will be a concern when air cargo operations can resume. Due to a backlog of demand building during the lockdown. This will inevitably elevate freight rates until some level of normal capacity can be reached, and the backlog cleared.
Goudsmit UK
Goudsmit UK continue to communicate with all customers proactively. We manage expectations and providing multiple solutions, allowing customers to make conscious decisions when balancing cost versus supply chain risk.
We continue to advise all customers at the point of quotation and order confirmation of the extended lead times. Therefore, allowing any freight delays to be factored in when planning. We would request that you review your current requirements and advise of any issues asap. We'd also urge you to review your requirements for 2022 – 2023 at the earliest opportunity.
Whilst freight delays are unavoidable at this time, we're working with our customers by holding larger volumes of UK stock for longer. We would encourage that a minimum of 8-10mths of buffer stock is considered when re-ordering new production. In order to help reduce the impact of freight delays and lessen the potential requirement for costly airfreight.