Currency
Pound Sterling is under significant pressure after the Bank of England raised interest rates to 1.0%. However, at the same time slashed economic growth forecasts.
Forecasts show potential for economic recession by the time 2023 is out and inflation could peak as high as 10% later in 2022.
This presenting a potent cocktail of gloom for Sterling and one analyst says the Pound to Dollar exchange rate is now at risk of slipping towards 1.20.
"The Bank of England has worsened its economic outlook for 2023, expecting the economy to contract in response to tight financial conditions and the effects of high energy prices. The currency market sees the recession as a notable negative factor, putting pressure on medium and long-term interest rates," says Alex Kuptsikevich, FxPro senior market analyst.
Pound-Dollar had consolidated over the last few days and even attempted a rebound after the U.S. Federal Reserve raised rates but said doing so by a swingeing 75 basis points was a step too far.
But news that a prolonged spell of elevated inflation – that could peak at 10% in the final quarter of the year – suggests the UK economy will suffer a significant slowdown as a cost of living crisis deepens.
The Pound-Dollar exchange rate slumped to a low of 1.2360 in the wake of the Bank's policy meeting, with losses seen coming against all the major currencies.
Source – Gary Howes, Pound Sterling Live
Commodities
April saw further reductions across majority of the commodities, aside from Zinc which increased slightly by 0.01 (USD/KGS). Neodymium reduced significantly by 30 (USD/KGS), Cobalt by 3.08 (USD/KGS) and Nickel by 0.62 (USD/KGS). Copper had a decrease of 0.59, closely followed by Samarium by 0.50 (USD/KGS) and Aluminium by 0.44 (USD/KGS).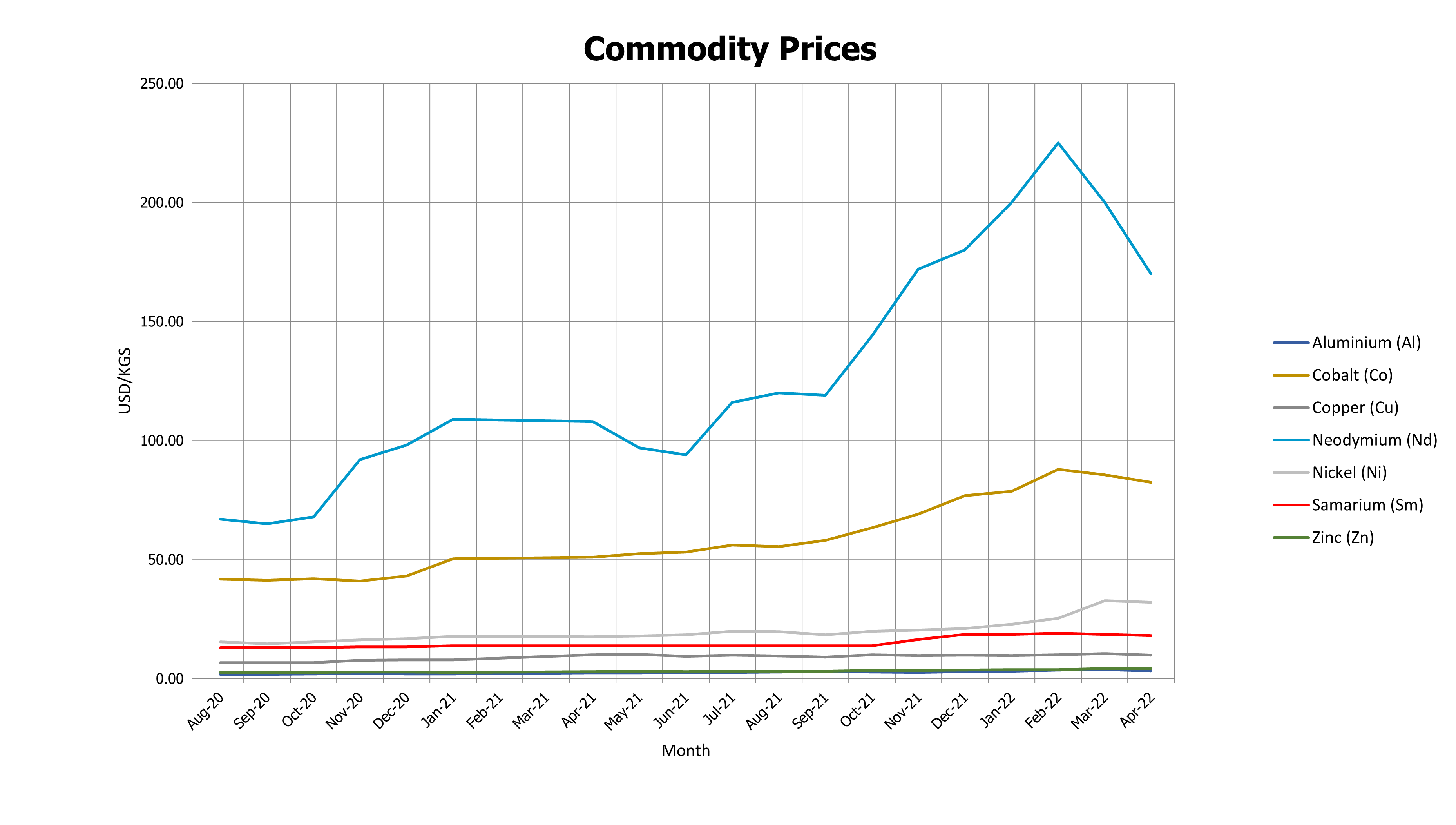 Production and Freight Delays
According to the shipping analytics firm Windward, approx. 20% of the world's 9,000 active container ships are stuck in traffic at congested ports. Around 30% of that backlog is in China alone.
President Xi Jinping stands firm with his zero-tolerance approach to Covid. There are at least 27 cities currently under full or partial lockdown.
Production has been allowed to restart in some areas, but with workers in lockdown at home and difficulty in securing trucks to transport goods to/from the port, normal operations are not possible and likely that delays will continue well into the summer months.
Airfreight operations continue to be stifled due to the Shanghai lockdowns. Cargo carriers have to be agile in their response, with flights returning, but offering fewer frequencies. As with sea freight, airfreight rates remain elevated.
Courier carriers are operating through Shanghai, but with weight limitations and transit delays.
Brexit
The issue of the NI Protocol has raised its head this week, as the Democratic Unionist party has refused to appoint new ministers to the new Stormont power-sharing government until checks at the Irish Sea border on goods coming into Northern Ireland from Great Britain have been scrapped. Talks with the EU had been stalled because of both the Ukraine war and the NI assembly election. However, these are set to resume. The UK is expected to unveil legislation in the coming weeks to disapply some of the protocol. The EU has advised that a renegotiation of the withdrawal agreement is not an option. They have promised swift and decisive action if the UK disapplies the protocol completely.
In other Brexit headlines, the UK have announced that they will not be introducing the remainder of the import controls on EU goods this year. In a written statement, Brexit opportunities minister Jacob Rees-Mogg advised that "it would be wrong to impose new administrative burdens and risk disruptions at ports" at a time of higher costs due to the war in Ukraine and rising energy prices. This is now the fourth time that the EU import checks have been delayed. It is likely that they will not come into force until the end of 2023.
Goudsmit UK
Goudsmit UK continue to communicate with all customers proactively. We manage expectations and providing multiple solutions, allowing customers to make conscious decisions when balancing cost versus supply chain risk.
We continue to advise all customers at the point of quotation and order confirmation of the extended lead times. Therefore, allowing any freight delays to be factored in when planning. We would request that you review your current requirements and advise of any issues asap. We'd also urge you to review your requirements for 2022 – 2023 at the earliest opportunity.
Whilst freight delays are unavoidable at this time, we're working with our customers by holding larger volumes of UK stock for longer. We would encourage that a minimum of 8-10mths of buffer stock is considered when re-ordering new production. In order to help reduce the impact of freight delays and lessen the potential requirement for costly airfreight.